New Roof

Construction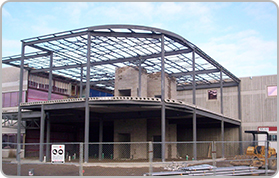 New Roof Construction is a make-or-break environment. As an engineer or general contractor you have to employ a team that is fit for it.
We are on point from the beginning, the tendering process (when the general contractor receives the drawings). Our close relationships with local general contractors and architects allow us to appreciate a scope of work. We can make recommendations to the original plan if need be, in order to meet building code or to cut costs.
Once the planning phase is complete, forces must be deployed. Our team of roofers will be scheduled, and ready for your call. Our roofers are experienced with the new construction environment and all of latest roofing systems. We work simultaneously with other trades in an efficient manner to complete the construction of your building. In addition, we employ certified installers for all of the latest roof applications.
Above any warranty we strongly recommend you setup a maintenance program. It is the best way to preserve your new roof into the future once the warranty is finished. We believe that a maintenance program is the best investment you can make for your new roof.
As a building owner or a general contractor you need to know that your sub trades are backed with all of the right certifications. You can have peace of mind in dealing with us as we are fully insured for liability, maintain up to date WSIB and are licensed applicators for all of the common roofing systems.
Customers and recent bylaws inform us that safety has become one of the most important features of our service today. We have taken this to heart, in employing a dedicated safety manager. To provide in-house training to all of our roofers and site personnel. Also, our safety manager is on each job with our team, to inspect and rectify any concerns. We believe there is no exception when it comes to safety.
Contact Anax Roofing. Call
1-877-219-ROOF

or
Contact Us for a free estimate today.