Roof

Replacement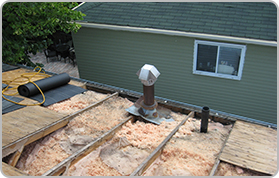 Once your roof has fulfilled its life cycle it is time for it to be replaced. As an owner or property manager you must recognize when your roof is beyond repair. When repairs are becoming more costly and required more frequently this is likely the case. At this point it is more beneficial for you to have your roof replaced, rather than continue repairing it.
Determining if your roof requires replacement can be difficult, on your own. We can provide you a roof condition report which will give you a precise analysis of your roof's status. We are able to give you an accurate report as our roof replacement division employs expert staff (20 plus years of experience) and superior technology. For example, we can employ thermal imaging and other moisture detection technology which can be used to pinpoint areas saturated with water.
Determining what your roof should be replaced with is one of the most important things to consider when it comes to roof replacement. This varies depending on the age and type of building you have. As well as, the existing roof that is on your building.
At times, we determine our customers do not need a roof replacement or such is not possible at the time. In this case, we can give advice on budgeting and timelines. What can our customer afford? What is the best decision for them at the time? As an owner or property manager you may be preparing a building for sale, renovating it for new tenants or maintaining it for continued use. We understand that everybody has different circumstances and we are prepared to work with you depending what your situation is.

The best way to postpone your roof replacement is to setup a maintenance program for it. We believe that a maintenance program is the best investment you can make for your roof replacement.
As a building owner or a general contractor you need to know that your sub trades are backed with all of the right certifications. You can have peace of mind in dealing with us as we are fully insured for liability, maintain up to date WSIB and are licensed applicators for all of the common roofing systems.
Customers and recent bylaws inform us that safety has become one of the most important features of our service today. We have taken this to heart, in employing a dedicated safety manager. To provide in-house training to all of our roofers and site personnel. Also, our safety manager is on each job with our team, to inspect and rectify any concerns. We believe there is no exception when it comes to safety.
Contact Anax Roofing. Call
1-877-219-ROOF

or
Contact Us   for a free estimate today.